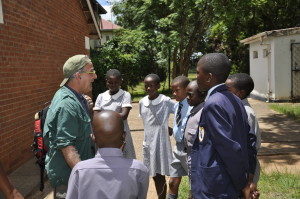 Working with Students in Zimbabwe
As an educator Jim Pugliese has worked for the LE.A.P. organization for over 20 years. LEAP is an educational service organization, which sends professional consultants into the public schools of New York City to work with students, teachers, and parents.  Jim has worked in hundreds of elementary, junior high and high schools.  He has conducted workshops for thousands of students, their parents and teachers.  He has taught science, math, cultural studies and language arts through music and percussion and created and designed curriculum, integrating music into the academic subject areas. For many years he worked at Project Concern's Substance Abuse and Violence Prevention program at P.S. 285 in Brooklyn.
In 2005 Jim was given the opportunity to begin his "Dream" After-School Program. Presently he is the brainchild and supervising director for Leap's award winning Radical Arts Venue and Education Center (R.A.V.E).  at CIS 22 middle school in the Bronx. Over the last eight years The R.A.V.E. Center has been the recipient of three major awards: The New York Life Award for Excellence in After-School Arts, the prestigious After-School Innovator Award from MetLife (one of only six schools in the country selected for this award) and in 2008 Jim was the recipient of the PASEsetter Award. Every year, PASE recognizes the best and brightest of New York City's youth development professionals. Chosen from hundreds of nominations, the five PASEsetter Award Winners exemplify the dedication, innovation, and accomplishment that is the hallmark of the New York City afterschool field.
Jim has also been BMI's Composer-In Residence at La Guardia High School of Music, Drama and Art in New York City for the past ten years and presently also teaches the Percussion Ensemble and Improvisation Ensemble at La Guardia. Three of Jim's music composition students have had their Compositions selected to be performed by the New York Philharmonic on their School Day Concerts.
Jim has done workshops and master classes in Percussion, Improvisation, Conducting and Career Development in Universities throughout the United States, Europe, Japan and Africa. For more detailed information please contact us. contact page